Where did August go? Where did the summer go? I can't believe it is already time for the September Secret Recipe Club reveal. I didn't participate in the August reveal, but I am certain just yesterday was the July reveal.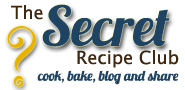 Between end of summer craziness and beginning of the school year craziness I don't think I have been to the grocery store more than a handful of times. As a result my pantry shelves are a little bare. So, when I came across a recipe for
3 Ingredient Cookies
on
Three Cookies
blog I knew I had found my recipe for this months reveal.
This cookie was developed as a result of a craving and a limited amount of ingredients in the pantry and it just called my name. In the spirit of the recipe I did change it up a bit based on what was available in the pantry and what I was craving. I added some peanut butter, so I guess my recipe is technically a 4 ingredient cookie, and I wanted to add some chocolate chips, but as I said my pantry was bare and I was out of chips.
There certainly isn't anything fancy about these cookies, but they are the perfect cookie when a cookie craving hits. They make a great midnight snack and are perfect after school. What is even better is that those little people who are looking for the after-school treat can make these little cookies with little to no assistance. These are very forgivable cookies so measuring mistakes won't ruin them. The ingredients are familiar and there is flexibility in the ingredients being used to accommodate those with varying taste buds.
3 (or 4) Ingredient Cookie
1 egg
1/4 cup peanut butter
1/2 cup sugar
1 cup old fashioned oats
Preheat oven to 350. In mixing bowl combine all ingredients. Stir until combined. Drop heaping teaspoon on to parchment lined baking sheet. Bake for 8-10 minutes or until just firm.
As always please be sure to go visit
Three Cookies
blog and all the other wonderful Group A bloggers of the Secret Recipe Club!