I can't believe a month has passed since my last post. August just flew by and while we had lots of fun with family and friends making the most of our summer days I am definitely ready for the Fall routine to begin. I am ready to begin thinking about back to school and what to back in school lunches.
I will have to pack two lunches this year, so I want to have some extra special treats for my veteran 2nd grader and my newbie in Kindergarten. When I came across the recipe for
Nutella No Bake Cookies
on
Cook Lisa Cook
I knew I had found the perfect thing not only for school lunches, but for this month's
Secret Recipe Club
as well.
Now if you look at the title of my post and the name of Lisa's recipe you have probably guessed I didn't make cookies. When I went to make the cookies I only had a little milk left and didn't want to use it up. What I did have plenty of was cream cheese. I thought about looking for a new recipe, but I was really excited about using the Nutella. Then it hit me Lisa's No Bake Cookies would make the perfect base for a cheesecake.
I kept everything else in the recipe the same. The result was a thick and crumbly dough that formed into a good ball when pressed together - the perfect crust for holding a nice creamy cheesecake. The recipe was large. I was able to make a really thick crust that went high up the sides - which is my favorite way to have a cheesecake - and still had some leftovers. My family managed to eat their way through the leftovers a handful at a time and while this made an amazing snack I would recommend reducing the amount of sugar and oats to create a smaller batch.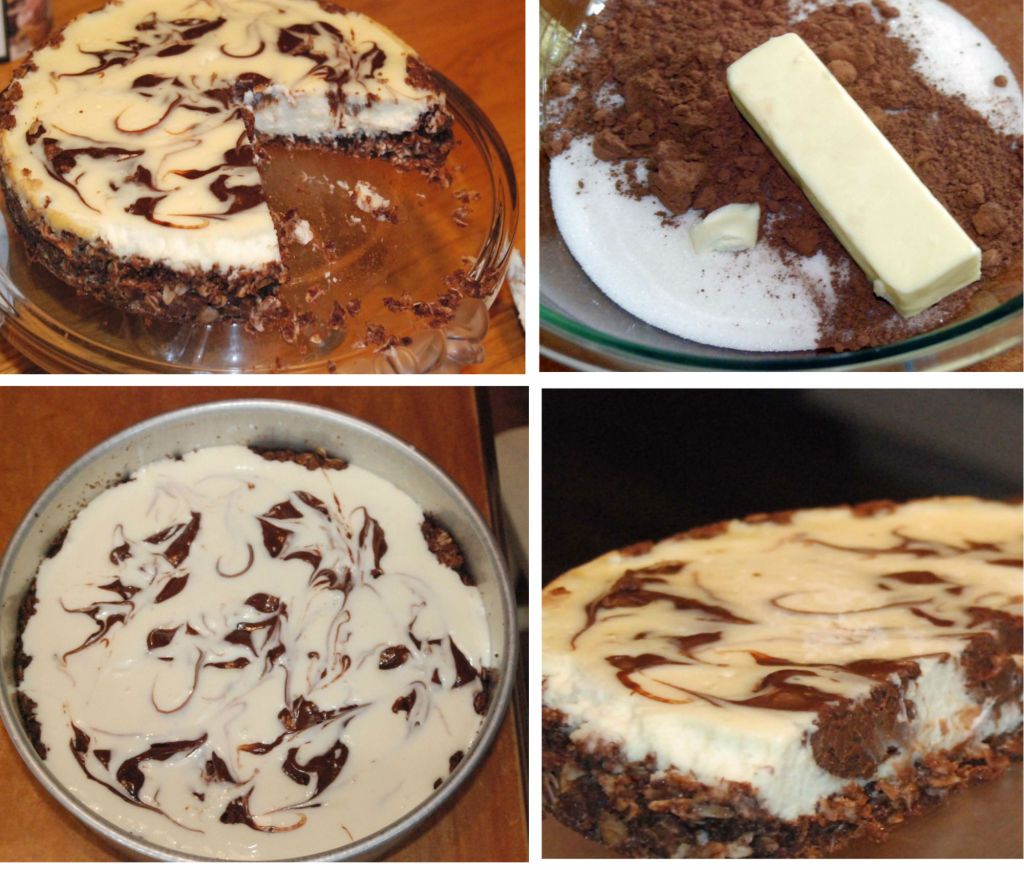 This is an amazing flavor combination. I loved it as a cheesecake base and am looking forward to giving the cookies a try as well!
Nutella Marble Cheesecake
Nutella Base:
2 cup sugar
1/4 cup cocoa
1/2 cup butter
1 tsp vanilla
pinch of salt
1/4 cup smooth peanut butter
1/4 cup Nutella
3 cup Old Fashioned Oats
Marble Cheesecake:
3 ounces bittersweet chocolate
1 pound cream cheese, at room temperature
1/4 cup sugar
3 eggs
1/2 cup sour cream
1 tsp. vanilla


Base:
Butter 9 inch spring-form pan. Preheat oven to 325.
In a microwave safe bowl combine the sugar, cocoa and butter. Heat in one minute intervals stirring after each minute until the butter and is melted and all the ingredients are combined. Remove from the microwave and add the vanilla, salt, peanut butter and Nutella. Stir to combine until smooth. Stir in the oats until combined. Press mixture into the bottom and up sides of prepared pan. Bake for 8-10 minutes. Let cool

Filling:
Place chocolate in the top of a double boiler and melt over hot water. Let cool.
Place cream cheese and sugar in bowl of food processor or mixer. Process/mix until combined and smooth. Add eggs, sour cream and vanilla, mix until combined. Add 3/4 cup of cream cheese mixture to chocolate, stir until combined. Pour remaining plain filling into the baked crust. Spoon chocolate mixture over plain filling in distinct blobs. Gently swirl chocolate into the light filling to marble it.

Bake in preheated 325 oven for 30 minutes, or until just barely set. Turn oven off, leave door slightly ajar, and let cool in the oven for 1 hour. Chill before serving.

Enjoy!