A few weeks ago I received a wonderful package in the mail from
Johnsonville Sausage
. It contained all sorts of goodies for a make your own pizza night. As it happens, make your own pizza is one of my kids' favorite activities, you probably could have guessed this based on the number of times I have written about it. They never tire of it and always ask to have tons of different ingredients put out even though they make the same type - plain old cheese - every time.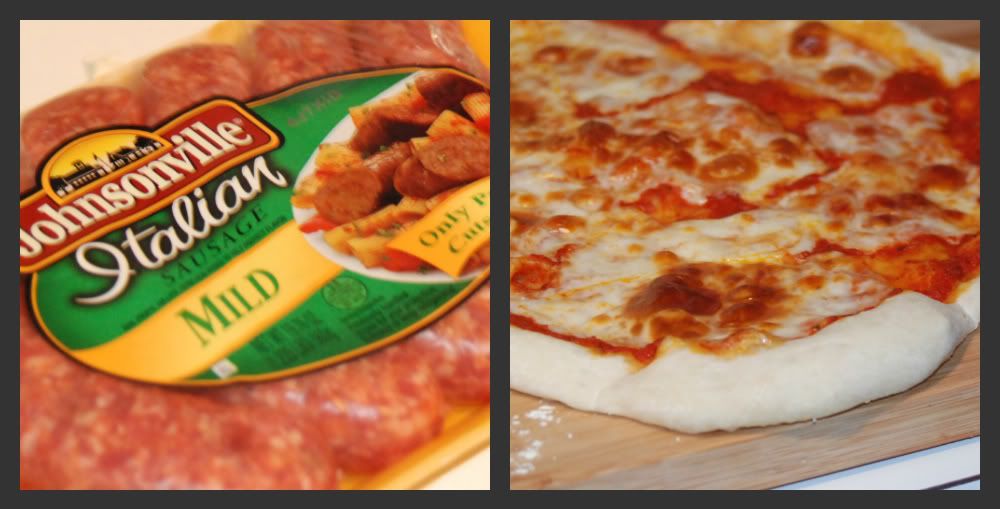 To take full advantage of the wonderful goodies from Johnsonville we gathered some friends together for a make your own pizza party. I gathered a bunch of different toppings and put the kids to work making an assortment of pizzas. The pizza selection included:
Chicken Sausage with sauteed onions
Plain Cheese
We didn't take an official vote for favorite pizza, but they were all devoured, my favorite was the Florentine, but I always go for spinach pizza. The recipes for the Margherita, Cucina and Florentine pizzas came from the
Johnsonville site
, they have a lot of great recipes so be sure to stop by and check them out.
The chicken sausage pizza was a white pizza and was created for my husband. He is allergic to pork, so I was thrilled to find that Johnsonville has come out with a flavorful chicken sausage. We used the apple chicken sausage, but they offer three other flavors that we also plan on trying.
Your favorite Pizza dough
2 links Johnsonville Apple Chicken Sausage, thinly sliced
1 large sweet onion, thinly sliced
1 c. shredded Gouda cheese
Olive oil
Salt and Pepper
Directions:
Preheat oven to 450 and heat pizza stone
Heat large nonstick skillet over medium heat. Add sausage, cook until browned, about 5 minutes. Remove from pan. Add 1 tablespoon oil to pan. Once oil is heated add onion slices. Cook slowly until tender and brown, about 10 minutes.
While onion is cooking roll out pizza dough. Brush with olive oil, sprinkle with salt and pepper. Place on hot pizza stone and bake for 5-7 minutes or until crust is lightly baked. Remove from oven. Top with sausage, onions and cheese. Return to oven for an additional 7-10 minutes or until cheese is melted.