I love cookies swaps. We had great cookie swap parties at the office where I use to work, but it has been a couple of year since I have been to a really good one. The last one I went to most of the cookies were purchased at local bakeries which I found very disappointing.
This year I participated in
The Great Food Blogger Cookie Exchange
, and knew I wouldn't be disappointed. It was hosted by
Lindsay
and
Julie
and over 600 bloggers participated each sending a dozen cookies to 3 other bloggers.
My family quickly devoured the cookies. It was as if they had planned their mailings as we had just finished one batch when the next arrived.
Our first batch came from Jessica -My Kitchen Adventures - she sent one of her family's favorites - "Melting Moments" and some wonderful peppermint Fudge.
Next, from Sofie - The German Foodie, we received "Mami's Hazelnut Shortbread" which is an amazing cookie made from an old German recipe.
Then came a batch of delicious Peppermint Mocha Chocolate Chip cookies from Brookie at Baking with Basil.
All of the cookies were delicious and as I said quickly devoured, which is why I have no pictures of them.
On my end I made Black Forest Crinkle Cookies, which went to
The Dainty Chef
,
Greens and Chocolate
, and
Kudos Kitchen
.
These are a super simple chocolate cookie and since there you don't need to use a mixer are great to make with kids. Edy worked with me on this project and actually taught me that to get the best results you need to really coat the cookies in powdered sugar. When I roll cookies in sugar I do a quick roll, when a two year old does it, it is a much more thorough process and yields much better results. So if you don't have the pleasure of having a two year old assist you, just think like a two year - more is better.
Black Forest Crinkle Cookies
(recipe from Cuisine at Home)
Printer Ready
Ingredients:
¾ cup All-purpose Flour
¾ cup Sugar
¾ tsp. Baking Powder
¼ tsp. Salt
4 Tbsp. Butter
⅓ cup Cocoa Powder (not Dutch process)
1 Egg
2 Tbsp. Coffee (or 1 tsp instant coffee granules mixed w/ 2 Tbsp. hot water)
⅓ cup Semisweet Chocolate Chips
⅓ cup Dried Tart Cherries
¾ cup Powdered Sugar
Directions:
Preheat oven to 350°, line baking sheets with parchment paper.
Whisk flour, sugar, baking powder and salt together in a large mixing bowl, set aside. In a small bowl melt butter in microwave. Once melted add cocoa powder to butter and whisk until combined. Add egg, coffee and vanilla, mix until combined. Add butter mixture to flour, mixing until just combined. Fold in chocolate chips and dried cherries.
Shape into 2" balls. Roll balls in powdered sugar, place on to prepared baking sheets, spacing cookies about 2" apart. Bake for 12-14 minutes, cookies will be cracked and soft - do not over bake. Let cookies cool 5 minutes on tray, then transfer to cooling racking.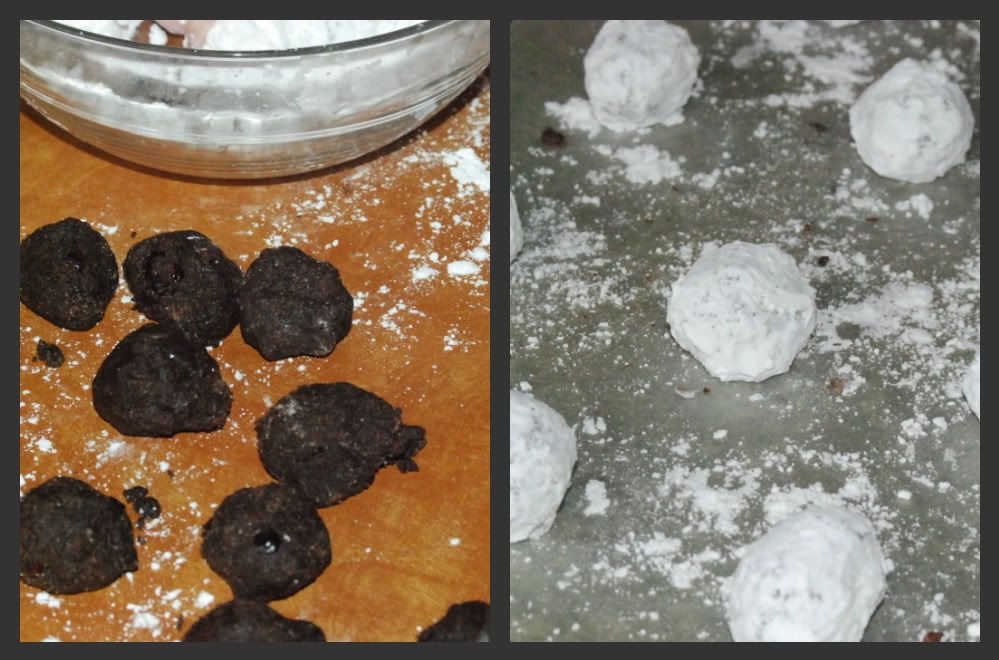 Not sure how it happened, but the cookies got out of the house before I got a picture of the finished product. Guess I will have to make them again!