Wow this month flew by! I don't know how it happened, but it is already time for another
Secret Recipe Club
reveal.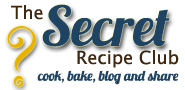 This month I got to check out
Kirsten's Kitchen
. Kirsten's blog is filled with a wonderful assortment of vegan recipes, you can find recipes for everything from breakfast to dinner!
I wanted to make the Vegan Sheefa she made for last month's SRC, they look absolutely delicious. I don't know if I will make the vegan or meat version - either way I am guessing they are going to be delicious. Since Kristen just made them for last month's reveal I decided to keep hunting around.
After much hunting and pinning I finally settled on the veggie filled
crepes
. It has been a long time since I made crepes and while we usually fill them with cheese or nutella I loved the idea of filling them with fresh crisp veggies.
Once I had decided on what to make I passed the actual work part on to Will and Mike. The girls and I were out for the day, so the boys had dinner duty and they came up with a wonderfully tasty meal.
They used regular milk instead of soy and added some leftover chicken to the filling selections. Mike also made a wonderful Asian influenced dipping sauce, it was a wonderfully simple and tasty meal.
Crepes
1 cup flour
1 1/4 cup milk
1 tsp. sea salt
1 Tbsp. olive oil, plus additional oil for the pan
Combine all ingredients, whisk together until smooth.
Rub a small amount of oil on the bottom of a crepe pan, or small saute pan. Place over medium heat, let pan heat for about 3 minutes. Add a small ladle of batter, rotate pan so entire bottom surface is covered with batter, should be almost see through. Let cook for about 2-3 minutes then flip. Repeat with remaining batter.