This month the Cake Slice bakers present a Zebra Cake, from
Cake Keepers
by Lauren Chattman. I have been wanting to try this cake for a while, but never got around to making one, so was very excited when it was announced as July's winner.
The flavor of the cake is good, nothing exceptional but a good base cake. It is nice and moist with subtle flavor. A fruit compote or a little sauce would be a nice addition to this cake. I had wanted to try it with a strawberry sauce, but the cake disappeared before I had a chance to make a sauce.
I was very disappointed with the appearance of my cake. I rushed when pouring the batter and didn't get defined stripes. I miscalculated how much time I had to make the cake and ended up with an under baked cake, and kids who were still waiting for a ride home 15 minutes after camp ended. Despite the appearance of my cake it is one that I will make again. It is a fun cake to cut into and with some enhancements on the side is a nice after dinner informal cake.
Make sure you check out other cakes from the
Cake Slice
bakers.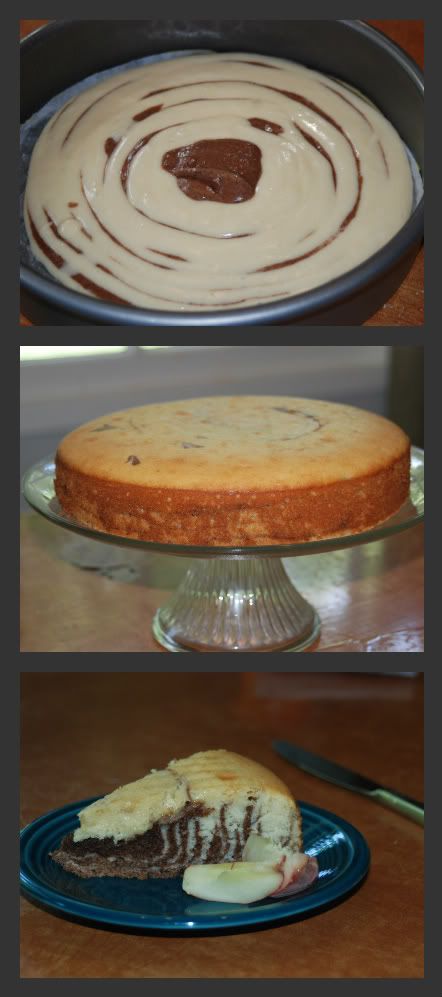 Zebra Cake
(Recipe from Cake Keeper Cakes by Lauren Chattman)
Printer Ready
Ingredients
2 cups unbleached all purpose flour
1 tbsp baking powder
¼ tsp salt
4 eggs
1 cup sugar
1 cup whole or 2% milk
½ cup (1 stick) butter, melted and cooled
½ cup vegetable oil
2 tsp vanilla extract
2 tbsp unsweetened Dutch cocoa powder
Method
Preheat the oven to 350F. Grease a 9 inch pan, line with a circle of parchment paper, grease the parchment and dust with flour. Combine the flour, baking powder and salt in a medium bowl.
Combine the eggs and sugar in a large mixing bowl and beat with an electric mixer on high speed until thick and pale, about 5 minutes. With the mixer on low speed, stir in the milk, butter, oil and vanilla, scraping down the sides of the bowl once or twice as necessary. Stir in the flour mixture, ½ cup at a time.
Transfer a third of the batte

r into another bowl and whisk in the cocoa powder.
Place a quarter cup of the vanilla batter into the centre of the pan and let it stand for a few seconds so it spreads out slightly. Place 2 tablespoons of the chocolate batter right on top of the vanilla and wait another few seconds until it spreads. Continue alternating vanilla and chocolate until you have used

up all the batter and it has spread to the edges of the pan.
Bake until the cake is set and a toothpick comes out clean, about 40 minutes. Cool in the pan for 10 minutes. Run a sharp knife around the edge of the pan and invert the cake onto a cutting board. Peel away the parchment paper.

Re-invert onto a wire rack and cool completely. Slice and serve.
Store uneaten cake in a cake keeper or wrap in plastic a
nd store at room temperature for 3 days.