This is a Sponsored post written by me on behalf of
Schar
for
SocialSpark
. All opinions are 100% mine.
It has been a couple of years, but we are planning on hosting an open house after New Year's. We have decided to keep the fare simple and instead of lots of little appetizers do a soup and sandwich buffet. In preparation for the gathering I am on a quest for a few perfect soups.
Since we aren't offering a lot of different food options I want to make sure there are a variety of soups, so for the next few weeks I am going to be trying at least one new soup each week. This week's soup a classic Vegetable Minestrone. This is probably my favorite type of soup to make as it can be made with whatever is handy.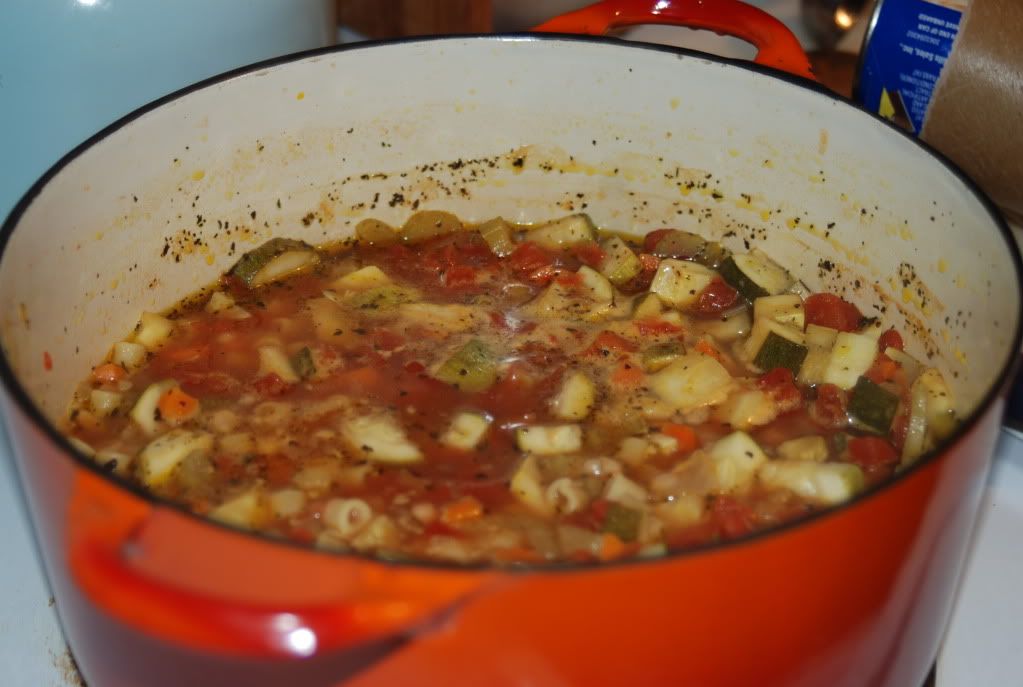 I had planned on writing down the recipe as I made it, but got distracted. The basic recipe is "dig through your fridge and find whatever vegetables are on hand and need to be used up." I will try and come up with something a little more specific and maybe even write down a recipe next time.
And, as everyone knows you can't have soup without bread. So the other part of my mission for the next few weeks will be to test a variety of breads. I am going to make some, but I also want to try some of the gluten free breads. We have some friends who have recently gone gluten free and it would be great to have options for them. My family is far from gluten free and
Schar
must have known this. I recently received an e-mail from them announcing they have just re-launched their gluten free heat and serve items. While I haven't had a chance to try the products I am definitely going to look for them next time I head to the grocery store. I am sure their Ciabatta bread would be wonderful with a bowl of hot soup.
I spent a lot of time checking out the Schar web-site which offers a wealth of information. I was amazed by the variety of products they offer, in addition to the ready to serve breads they also offer pastas, breadcrumbs and a variety of mixes. The site also provides information on Celiac disease and gluten free diets, which is great for those of us who aren't very knowledgeable on the subject. If that weren't enough the site is also a great resource for gluten free recipes. I marked a couple of them, and along with Ciabatta bread I am going to pick up some of the classic white bread mix so I can make the Italian Christmas cake. I would think this time of year would be especially hard for those who are gluten intolerant and it would be wonderful to be to be able to offer a special treat that everyone can enjoy.
Whether you are gluten free or just trying to incorporate an occasional item in your diet the Schar site is great. When you sign up for
Schar Club
you gain access to hundreds of gluten free meal options in the recipe database, connect with gluten-free experts provide and recieve updates on new products. If you are interested in checking them out you can request
Schar free sample
. I am going to give it a try and will let you know!